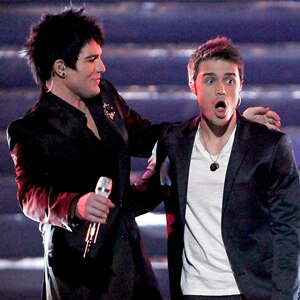 Kris Allen is here! (Justin Bieber... BYE BYE!) Check out all his cool music and his new song
Live Like Your Dying
. It ROCKS! And you can also check out his Official Website. Just scroll down and it is there with a pic of him. Check it out! (Doesn't he look funny in this picture? I would too though!)
*
Vote now on the poll of your favorite sport! Thank you to all the people who have voted so far. AND YOU CAN VOTE FOR MORE THAN ONE! Check it out now!
*
Like some of the new gadgets? I am hoping to get some more. I hope you also like this background. The lady that makes these dose a really cool job.
*
Follower! Listen up! If you want to check out some other cool blogs go to my followers first! You can check out my friend's blog and the other blogs that they follow! And if you are not a follower yet you can always join!
*
Thanks for visiting! Come back soon!